The Port Houston plans to undertake significant infrastructure improvements in the next few years to ensure that the greater Port of Houston can accommodate the advent of larger vessels and increased cargo resulting from the Panama Canal expansion, as well as the expected future demographic growth in the region. Maintaining and improving efficiency at the public terminals through more modern facilities and equipment is essential to meeting one of our mandates – to promote and facilitate commerce to benefit not only our local partners, but also Texas and the nation. For 2016, the Port Commission approved an aggregate capital budget amount of $314 million for various infrastructure projects. In accordance with statute, however, any individual capital project or expenditure exceeding $50,000 must be presented and acted on by the Port Commission at a public meeting. The quarterly
Upcoming Design and Construction Projects Report
provides information on major infrastructure projects planned over the next couple of years at various Port Houston terminals and facilities. It can be found on the port's procurement page and includes a contact name and phone number for each project. For questions on this report, you may also contact the Project and Construction Management Department at 713-670-2612.
---
Rail Spur at Bayport Terminal
Construction of approximately 6500 track feet of rail at the Bayport Terminal. This rail will cross State Highway (SH) 146 and connect the existing rail from Strang Rail line to within 900 feet of the Container Freight Station (CFS) Road in the Bayport IntermodalFacility. This project will also include clearing, grubbing, drainage, rail crossings, signalization, and perhaps a sound wall, if required.
Bayport – Construct Container Yard 7
Construction of approximately 50 acres of reinforced and roller compacted 18-inch concrete pavement, including the construction of a storm water collection system, water and sanitary sewer mains, high mast lighting and communication conduit.
Bayport West Empty Container Yard and Container Yard 7 Security Projects
Provide security CTV cameras, conduits, manholes and network connections.
DEMOLITION OF 2 WHARF CRANES AND MOVING 3 CRANES AT BCT
Two wharf cranes will be demolished, dismantling the cranes in a safe manner, and transporting the pieces off site for disposal or salvage. Three additional cranes are to be moved from its current position at Barbours Cut.
BARBOURS CUT – REHABILITATION OF WHARF 3
The wharf will be upgraded in order to support 100 feet gauge dock cranes and to accommodate larger ships. This project consists of the upgrade of 1000 feet of wharf, a new stevedore support building, structural elements, high mast pole lighting, and electrical infrastructure required to power three new dock cranes.
BARBOURS CUT – LASH DOCK DEMOLITION AND DREDGING
The project consists of the demolition of the Lash Dock located at the East End of Barbours Cut Terminal. The work includes the removal of all concrete structures such as decks and piles and dredging.
DRAINAGE SYSTEM AT VOLKSWAGEN YARD AT TURNING BASIN TERMINAL
Improvement of existing drainage system tied to IH-610 feeder road at the Volkswagen yard at the Turning Basin terminal. Project 1: TxDot construction of drainage improvements to the 610 feeder road. Project 2: PHA construction of drainage improvements to the Volkswagen Yard.
REHABILITATION OF TRANSIT SHED FLOOR AT WHARF NO. 46 AT TURNING BASIN TERMINAL
Repair of floor slab of the transit shed.
TURNING BASIN SOUTH REPAIRS AT WHARF 1
Structural concrete repairs of columns, caps, strut beams and top deck.
Design: Barbours Cut Truck Processing Entry Gate
This design objective is to increase the gate capacity to handle anticipated future growth at this terminal.
Design: Barbours Cut - Rehabilitation of Additional Container Yard Storage
The scope of work includes the design of approximately 9 acres of concrete pavement (standard 18″ concrete) for storage of containers as well as traffic lanes to maintain circulation into and around storage areas.
Design: Turning Basin - Rehabilitation and Repair of Wharf 9
Structural concrete repair, fender replacement, and geotechnical rehabilitation.
@Port_Houston
Ocean #carrier panel discusses readiness and #container capacity at #PortHouResin Conference.
Show

Media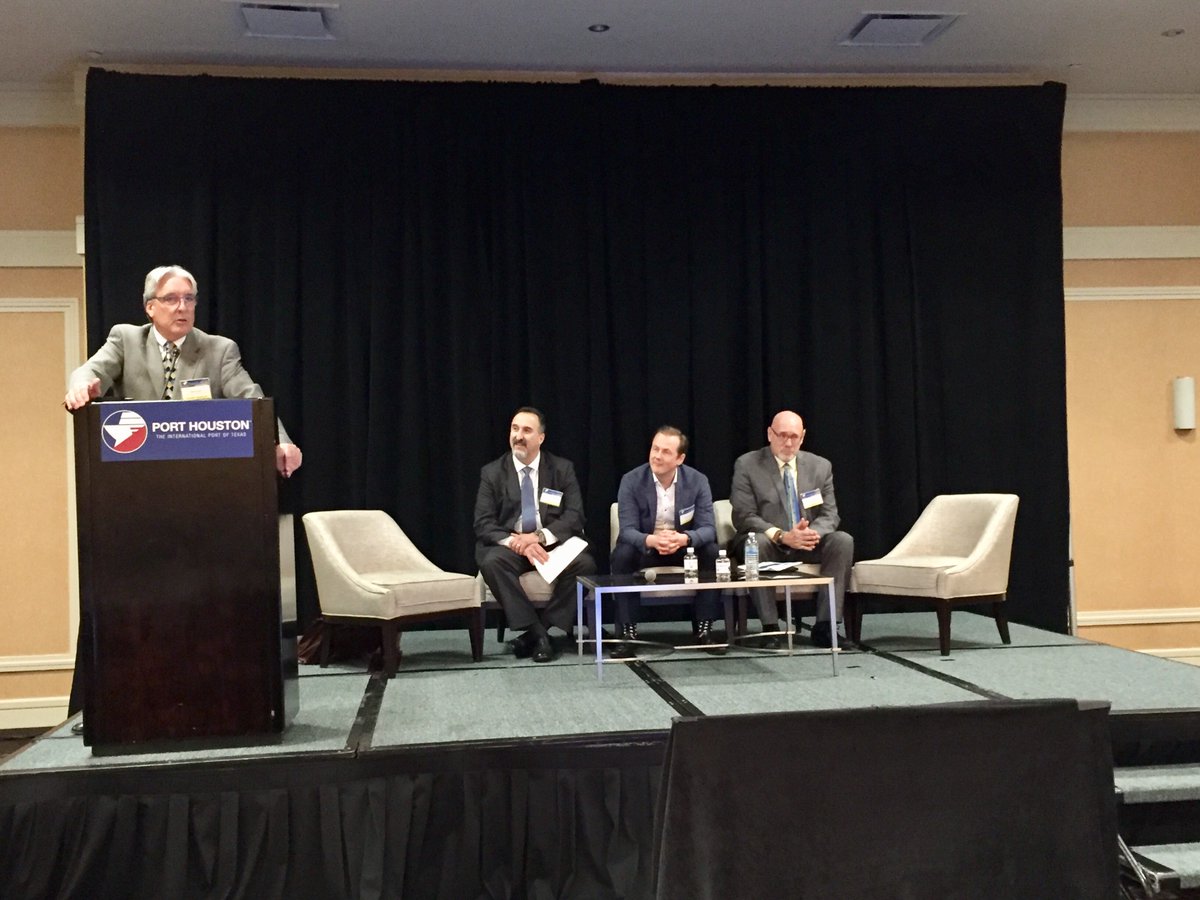 Port Houston is proud to be the mobile app sponsor for the Retail Industry Leaders Association Conference, Feb. 25-… t.co/ouQ8HY8oV0